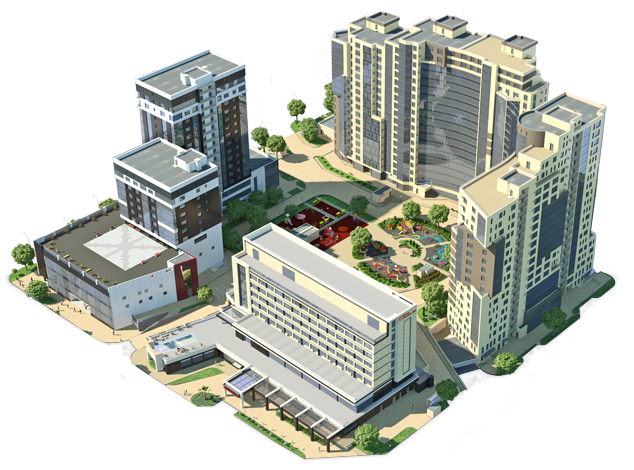 Grand multifunctional complex, which will consist of luxury apartment buildings, a hotel and underground parking, is presented in the center of Novorossiysk on the shore of picturesque Tsemesskaya bay.
Sales office: +7 (495) 742 5367, +7 (8617) 30 82 52
Web-site: novocity.ru
Management company —

Total area

112518

Project manager

Valeria Usenko
More information
Novocity is a multifunctional complex in the largest Russian southern port Novorossiysk. It is located at the intersection of Admiral Serebryakov naberezhnaya and ulitsa Isaeva and Shevchenko. From there you can get to any part of the city centre within 5 minutes by transport or 15 minutes on foot. The main railway station is located within 10 minute drive and Anapa airport is 65 km away from Novocity site. The complex is perfectly visible from the port and from any point of ulitsa Serebryakova and Isaeva.
Novocity is an ambitious and composite project, a city within a city, creating comfortable conditions for work, living and leisure, combining a modern hotel, offices and luxury housing. This project provides Novorossiysk's infrastructure with economically and socially important facilities that are desperately needed.
Project brief:
Two-level underground parking
07.03.2018

March 1, 2018 marked a memorable event in Novorossiysk – a presentation of Novocity Multifunctional complex to the officials of the city and region administration, and also to the representatives of large and medium size business in Novorossiysk.

21.02.2018

Novocity Multifunctional complex sticks to the good old tradition of celebrating Broad Maslenitsa with its tenants and friends: on February 18 the courtyard of the Complex was filled with laughter, folk songs and surely, the fine smell of freshly-baked pancakes.

20.12.2017

Multifunctional complex "Novocity" is again in the middle of the action - Novorossiysk hosts the shooting of crime series, with "Bashnya" apartment house being one of the locations.

14.12.2017

On December 8 the residents and guests of multi-functional complex Novocity enjoyed а nice surprise: an off-beat event, a remarkable meeting with Anatoly Gushin, a charismatic film and theatre actor.

23.11.2017

November 22, 2017 marked the 9-th annual award ceremony of Moscow and Federal Real Estate Awards, Urban Awards, with multifunctional complex Novocity being a participant. More than a hundred of new-builds of Moscow, Moscow region and regions of Russia competed for the right of being the best in their nominations.

21.11.2017

On November 16, 2017 the luxurious hall of "Bashnya" apartment house served the venue for a private grand reception for Raiffeisenbank select clients.

18.09.2017

On September 14, 2017 the presentation of "Sobaka.ru" glossy magazine took place in Novorossiysk at the multi-functional complex "Novocity". The event was hosted at the 17-th floor of "Bashnya" apartment house, at the penthouse with a scenic view over the Black Sea.

09.06.2017

On June 3 "Novocity" multifunctional complex organized festive activities dedicated to Children's Day. About a hundred guests, including children from "Sailor-boy" rehabilitation facility in Novorossiysk, gathered at the inner court of the Complex.