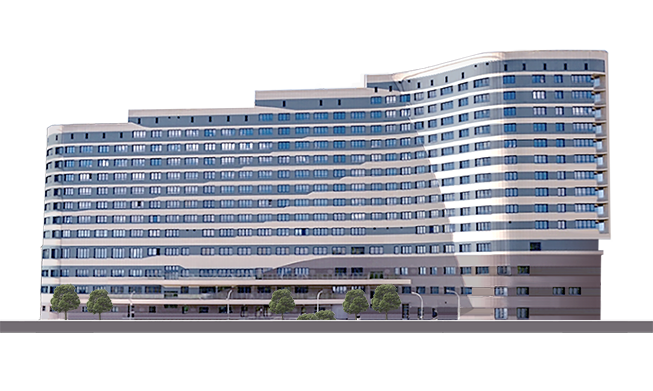 "Trilogiya" is an apartment house with a distinctive status. Flat ownership does not only mean square meters in historic part of the city, it also provides access to a full range of services, uncovering new facets of luxurious life.
The project is accomplished. All apartments are sold.
Total area

24969

Total number of apartments

119
More information
Club house "Trilogiya" is a single compex with Hilton Garden Inn Ufa Riverside and comprises three sections from 9 to 11 floors. There is a limited number of apartments under the project: 33 in section А, 32 in section Б and 27 apartments in each of the two entrances of section B. Metric area of the apartments ranges from 48 to 195 square meters.
The building frame, floor slabs and bearing walls are made from site-cast reinforced concrete. Ceramic tile is laid in entrances and other communal premises, the walls are decorated with high-quality parging, Otis elevators are installed. There are no internal bearing walls in the apartments, enabling the owners to re-plan the space.
The three lower layers of the building are the underground parking and storage premises, which can be used for storage of large-sized inventories. There is guest car-parking in front of the house.
Club house "Trilogiya" is conveniently located and is close to various state institutions, business-centers, schools and universities, shopping malls, restaurants, parks and garden squares.
The building is on the cliff and this advantageous location provides for a marvelous view on the Belaya river and Zabelskiye forests on the one side and a city view on the other side. The planning is well- thought and every apartment has at least one window, which allows to enjoy the sunsets over the river.
The residents of "Trilogiya" club house have special offers for a range of services from Hilton Garden Inn Ufa Riverside: from cleaning service to executive car transfer.