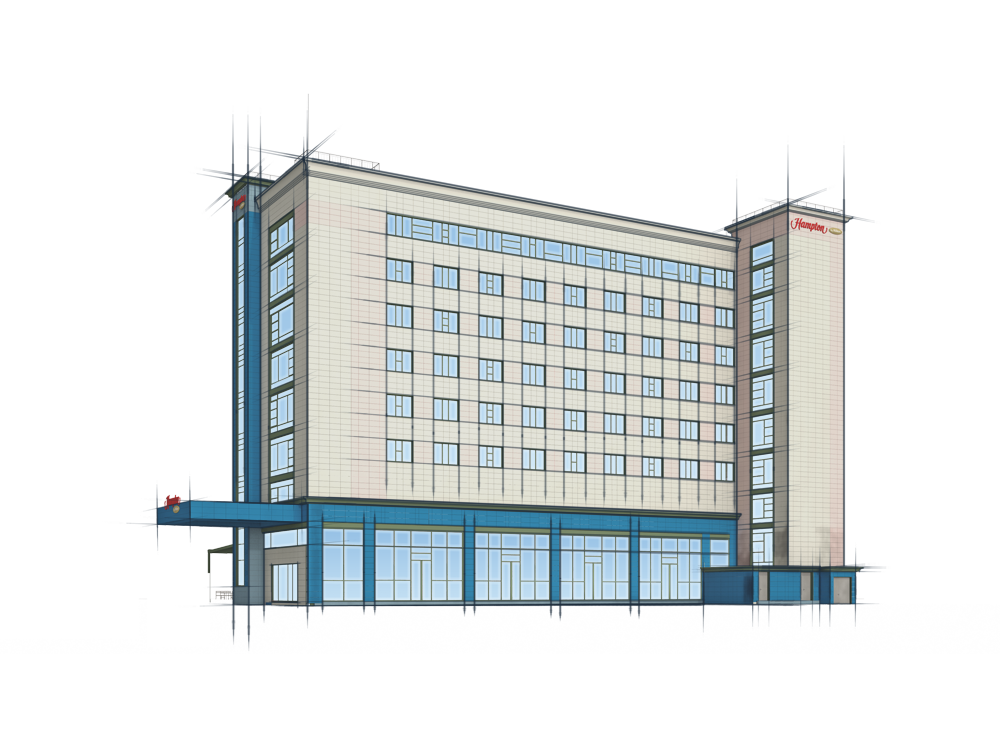 Management company —

More information
New international 3* hotel Hampton by Hilton Krasnodar will be built in the city centre in between Krasnaya Street, Mira Street, Rashpilevskaya Street and Ordzhonikidze Street. Along with the central position, allowing for convenient transportation facilities, proximity to administrative buildings and major sights, the project's side benefit is its joint positioning with the nearby Hilton Garden Inn. A flexible pricing policy of the two-hotel complex will provide guests and tourists with optimal conditions for using hotel services.
Hampton by Hilton Krasnodar will be a modern 8-storey hotel complex with an adjoining block of conference rooms, a restaurant, a bar, fitness and an underground parking. Inventory will occupy 3-8 floors and include 32 standard single rooms, 22 double rooms, 46 flex rooms and 2 rooms for physically challenged people.
Hampton by Hilton guarantees invariably top-level service and compliance with international Hilton service standards. The guests will enjoy all the needed facilities, including free Wi-Fi across the hotel, Hampton's On the House cooked breakfast, up-to-date equipment and, certainly, a comfortable and friendly atmosphere.
08.07.2020

Krasnodar, July 6, 2020: Svetlana Balaeva, Minister of Resorts, Tourism and Olympic Heritage, and Krasnodar branch of "KESCO" signed an agreement on granting property tax benefits. 5-year tax relief is approved by regional authorities as part of investment project on construction and operation of Hampton by Hilton Krasnodar 3*.

13.03.2020

Hampton by Hilton Krasnodar: currently finishing works in public areas are under way, furnishing of rooms and furniture assembly are being finalized. The hotel is at the pre-opening stage and is actively preparing to welcome its first guests and offer the best service complying with the Brand's standards.