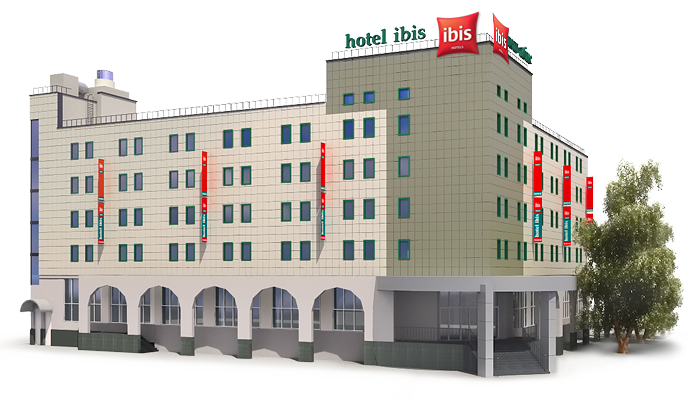 The first international chain hotel in the Republic of Tatarstan providing the highest level of European service. It is located in the very centre of Kazan. It is also the only Ibis hotel which has expanded the concept of its restaurant.
Ibis Kazan Centre website.
Management company —

Opening date —
August 2009
Total area

6563

Total number of guestrooms

155

General Manager

Timur Khaybulin
More information
Ibis Kazan Centre is the first 3 star chain hotel of European level in Kazan. It is distinguished by a prime location in downtown area, right next to famous ulitsa Baumana, within five-minute walk from the Kazan Kremlin, listed among UNESCO World Heritage Sites and forming a part of historic downtown. The hotel meets all international standards and provides all services appropriate to a modern hotel.
What distinguishes Ibis Kazan Centre from other hotels of Ibis chain is an advanced concept of Sud et Cie restaurant which strikes as unique and the only one in the city. Only in Ibis Kazan Centre you will find a restaurant as an independent full-range complex, surpassing hotel level and corresponding to European standards of 4 star category. Sud et Cie offers a wide variety of dishes of Spanish, Italian, French, Russian and Tatar cuisine. The restaurant menu lists traditional dishes for lunch, breakfast and dinner, as well as unlimited buffet-style business lunch.
The hotel offers 155 comfortable upgraded rooms equipped with LCD TV, satellite TV, wireless and high-speed Internet access, air conditioning, direct dialing; among them - deluxe rooms, standard rooms and rooms for physically handicapped guests. In addition, guests are allowed to stay at Ibis Kazan Centre with their pets. One can also enjoy the hotel bar Rendez Vouz, 3 meeting rooms and underground parking under security surveillance.
Ibis Kazan Centre website.
11.12.2018

On December 9 Ibis Kazan hosted a Christmas fair, the off-beat hand-made presents and pre-fest atmosphere attracted great attention of the citizens and city visitors.

12.11.2018

On December 9 Ibis Kazan will host a grand Christmas fair, everyone is welcome. Exciting events and handmade goods will be of interest both to grown-ups and kids.

31.10.2018

Past week-end is memorable to the guests of Ibis Kazan for its costume Halloween party by Liza. Little fidgets actively participated in master-classes and enjoyed socializing.

22.10.2018

On October 28 Ibis Kazan invites its little guests and their parents to visit a joyful culinary master-class "Halloween party by Liza".

19.10.2018

On September 16 Ibis Kazan hosted "Kids party by Liza", which opened a series of creative master-classes for little guests, planned at our hotel.

19.07.2018

On July Ibis kitchen restaurant hosted an interesting art-party, Painty party, where the participants learned to paint pictures and had a lovely time amongst the like-minded persons.

18.07.2018

On July 24 Ibis Kazan welcomes all those who are willing to take part in the opening of English Speakers Club Kazan.

02.07.2018

Last Friday Ibis Kazan hosted a free bachata and kizomba master-class. Numerous guests and staff actively participated in this captivating event.

28.06.2018

On June 29 2018 Ibis Kazan will host a free social dance master-class. All the hotel's guests and partners are most welcome.

25.06.2018

On June 1 Ibis Kazan together with Daria Sharova plastique and dance studio hosted a private event, dedicated to the end of the first school year of the city. Children could enjoy tasty treats, varied entertainment program and award ceremony for study achievements.

20.02.2018

On February 18 Ibis Kazan hosted a happy and loud celebration of A Broad Maslenitsa with its guests, friends and neighbours.