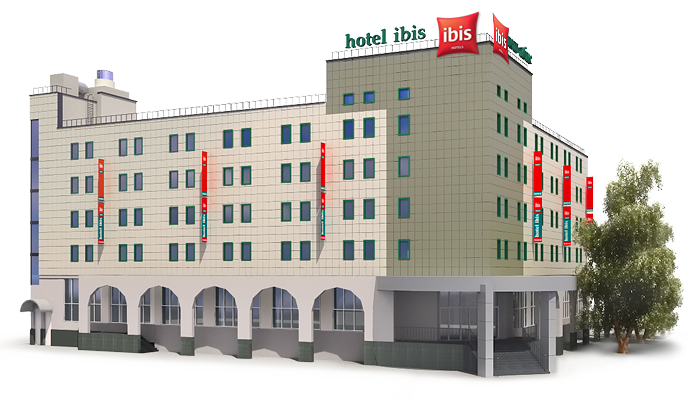 The first international chain hotel in the Republic of Tatarstan providing the highest level of European service. It is located in the very centre of Kazan. It is also the only Ibis hotel which has expanded the concept of its restaurant.
Ibis Kazan Centre website.
Management company —

Opening date —
August 2009
Total area

6563

Total number of guestrooms

155

General Manager

Timur Khaybulin
More information
Ibis Kazan Centre is the first 3 star chain hotel of European level in Kazan. It is distinguished by a prime location in downtown area, right next to famous ulitsa Baumana, within five-minute walk from the Kazan Kremlin, listed among UNESCO World Heritage Sites and forming a part of historic downtown. The hotel meets all international standards and provides all services appropriate to a modern hotel.
What distinguishes Ibis Kazan Centre from other hotels of Ibis chain is an advanced concept of Sud et Cie restaurant which strikes as unique and the only one in the city. Only in Ibis Kazan Centre you will find a restaurant as an independent full-range complex, surpassing hotel level and corresponding to European standards of 4 star category. Sud et Cie offers a wide variety of dishes of Spanish, Italian, French, Russian and Tatar cuisine. The restaurant menu lists traditional dishes for lunch, breakfast and dinner, as well as unlimited buffet-style business lunch.
The hotel offers 155 comfortable upgraded rooms equipped with LCD TV, satellite TV, wireless and high-speed Internet access, air conditioning, direct dialing; among them - deluxe rooms, standard rooms and rooms for physically handicapped guests. In addition, guests are allowed to stay at Ibis Kazan Centre with their pets. One can also enjoy the hotel bar Rendez Vouz, 3 meeting rooms and underground parking under security surveillance.
Ibis Kazan Centre website.
23.05.2022

Two master classes were conducted in April at Ibis Kazan.

09.11.2021

European Short Course Swimming Championships were conducted in Kazan on November 2-7.

24.09.2021

On 22 - 25 September Kazan serves venue for inter-agency mini-football competitions among national teams of Russian Federation federal executive bodies, Ibis Kazan is glad to host the tournament participants.

06.09.2021

Ibis Kazan is true to good annual traditions and is glad to welcome the participants of XVII Kazan international Muslim film festival held in the capital of Tatarstan September 5-10.

30.03.2021

On March 19 – 23 the capital of Tatarstan hosted the participants of sword fencing among men and women in the individual and team championships. Ibis Kazan Hotel hosted teams from various countries, including participants from Poland, who won a gold medal in women's championship.

03.03.2021

On February 25-28 Kazan hosted an all-Russian Winter corporate Festival. The competitions united over a thousand participants in 25 kinds of sports. The participants of Branch of State Corporation for arranging air traffic in Sverdlovsk region (Team Ural) won most of the prizes in downhill skiing and snowboarding competitions.

18.02.2021

In the anticipation of the Chinese New year Ibis Kazan was decorated with typical attributes of an eastern holiday to please its guests. The guests enjoyed merging into the festive atmosphere and participated in pulling the ready-made predictions.