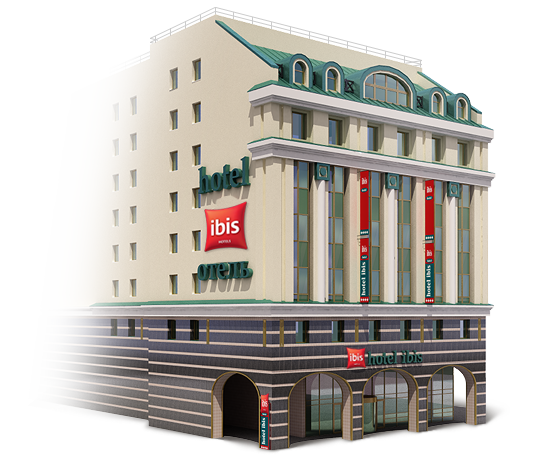 It is the only 3 star hotel of international chain with a full service on a European level in St. Petersburg. The hotel is located in the heart of the city, which provides easy access to major transport nodes and local attractions.
Ibis St Petersburg Centre website.
Management company —

Opening date —
November 2007
Total area

9026

Total number of guestrooms

221

General Manager

Orlov Vladimir
More information
Exclusive design of Ibis St Petersburg Centre hotel differs from other hotels of Ibis chain in unique interior design standards, which were first used here. Ibis St Petersburg Centre is the first local 3 star hotel of international chain which provides European level of service. It is located in the centre of St. Petersburg, in Ligovsky Prospekt, within a five-minute walk from Nevsky Prospekt, close to the Moscow Railway Station, and within 40-minute drive from Pulkovo Airport.
The hotel accommodates guests in 221 rooms, which are furnished with a plasma TV with satellite channels, telephone, free Wi-Fi Internet access, air conditioning and a shower cabin. Ibis St Petersburg Centre is also pleased to provide the guests with rooms for smokers and the disabled. For business meetings, seminars and other activities guests can use three conference rooms for up to 90 persons.
Sud&Сie Restaurant for 120 persons offers cuisine from the south of France, Spain, and Italy. It is open every day for breakfast, lunch and dinner. In Rendez-Vous Bar one can order a wide variety of appetizers and beverages.
Prime location in the heart of St Petersburg, full service of European level, and well-known Sud&Сie Restaurant make the hotel an ideal place for business meetings and tourism.
Ibis St Petersburg Centre website.