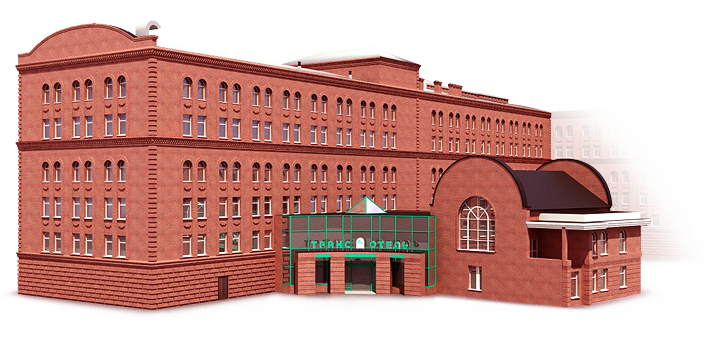 A small 3 star hotel situated in the very centre of Yekaterinburg, combining impeccable European service and Russian hospitality and providing the atmosphere of comfort which makes guests feel at home.
Website: transhotel.su
Management company —

Total area

3326

Total number of guestrooms

39

General Manager

Anna Malkova
More information
TransHotel is located next to the consulates of Great Britain, the USA, Hungary and the Czech Republic, near the Opera and Ballet Theater and Musical Comedy Theatre, Historical Museum and the Museum of Fine Arts. It is also within five-minute walk from the majestic Cathedral on the Blood. Lovers of shopping and pleasure-seekers can have a good time in the nearby shopping malls and entertainment centers.
The hotel offers its guests the following room categories: standard, deluxe, suite, room for just married. Each room provides a mini-bar, satellite TV, air conditioning and heating system, free Wi-Fi Internet access and electronic equipment connectivity.
TransHotel guests can enjoy free surface parking, art-cafe BIENNALE, sauna, billiard room, complimentary Internet access in guest areas and rooms, conference hall, banquet hall and meeting room. In addition, art-cafe BIENNALE regularly hosts fine art and photo exhibitions as well as organizes various theme parties and fashion shows, therefore you can become an active participant of the club and cultural life in BIENNALE if you stay at Transhotel.
While providing all necessary services of European level, TransHotel remains true to home-like traditions and keeps a warm welcoming atmosphere. We will do our best for you to start a new day in high spirits and great shape.
TransHotel website.
19.05.2011

On May 18th 2011 a unique art-café BIENNALE was officially opened. Management company KESCO introduced not only fresh interior and menu of TransHotel's café, but also a conceptually new hotspot.