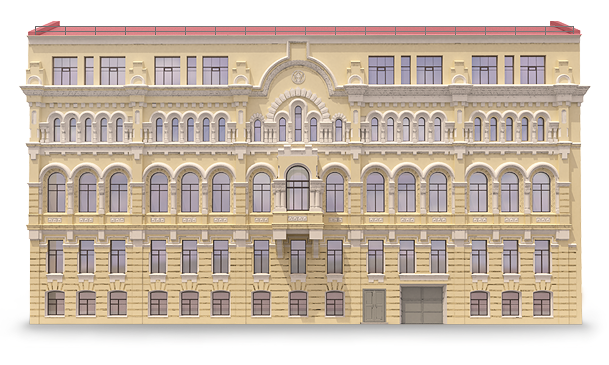 The building uniquely combines historical architecture and modern functionality. It is located in the downtown area of St Petersburg, close to main traffic flows. The total area is 18 000 sq m.
Brand and management company —

Total area

18007

Project manager

Tatyana Petrova
More information
The office complex is located in the heart of St Petersburg, in close proximity to Moskovsky prospekt – a busy thoroughfare leading to Pulkovo airport and connecting central and southern parts of the city, - and just 7 minutes walk from metro station University of Technology. Façade of the complex overlooks Klinsky prospekt where Olympia garden is situated.
The complex was built in 1873; its front wing reflects the unique beauty of the late XIX century architecture and is of historical value protected by the Federal law 'On Cultural Heritage'.
The complex premises with a total area of 18 000 sq m are intended for office, industrial and warehouse lease. All utilities – water, sewage, heating, lighting, radio, telephone, natural ventilation and lifts – are in good condition.
Excellent location in the historical and business centre of St Petersburg, close to all traffic arteries of the city, a metro station, a railway station and within walking distance from the main cultural and historical attractions, as well as unique architecture and surrounding area make 'Klinsky 25' very appealing for tenants.